The Resurfacing Doctor is the leader in bathtub resurfacing services throughout Palm Beach, Lee and Collier county. We are proud to offer our customers with highly efficient and cost effective bathtub resurfacing. Many clients think they need to remodel the entire bathroom to get that brand new finished look. Many bathrooms simply just need a new finish, for a brighter and cleaner look. You don't need to invest in a major remodel to give your bathroom a fresh, new look. With bathtub resurfacing from The Resurfacing Doctor, you can transform your tub to rejuvenate your boring and outdated bathroom!
Bathtub Resurfacing: The Economical Choice
Updating your bathroom doesn't have to cost a fortune. For less money and less of a mess, you can breathe new life into an old bathroom by refinishing your bathtub. At The Resurfacing Doctor, we make it quick and easy to get the bathroom look you want. Customer satisfaction is important to us and we go out of our way to deliver professional, courteous, and attentive bathtub resurfacing services. We simply will not have it any other way!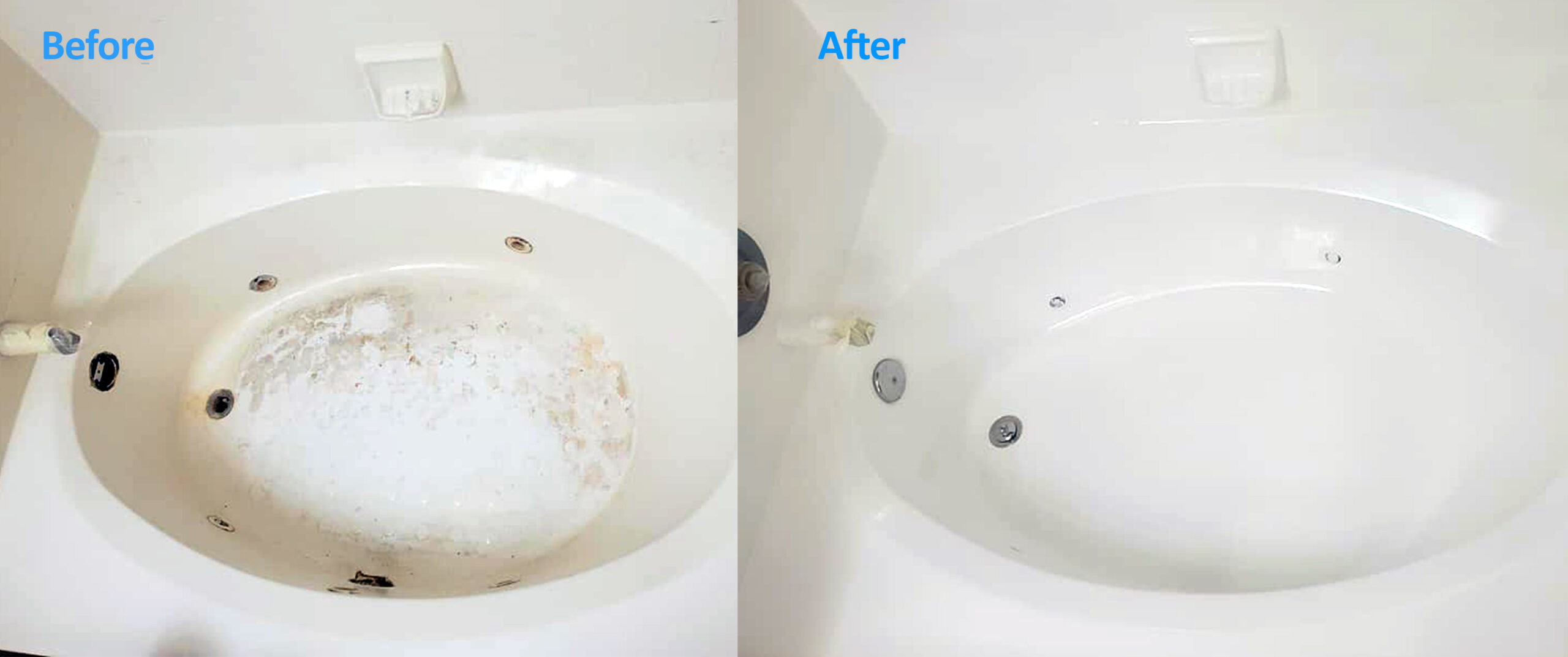 Below is a quick breakdown of how the process works:
Your old bathtub most likely has already been resurfaced or refinished once or twice before. We will start by removing the surface of the existing coating and sanding it down to the original surface. We then remove the old caulking if needed as old caulking is normally unsightly and interferes with the application of the coatings.
Porcelain Tubs & Metal Tubs:
We will apply an Acid Etch solution  to the tub using a coarse applicator. This ensures that our coatings properly bond with the surface of the bathtub. This creates 'pores' & small 'grooves' in the tub. With this method, the primer's bond to the surface is solid for many years of adhesion.
Fiberglass & Plastic Tubs:
Using coarse sandpaper, we sand and scuff the surface to ensure maximum bonding of our coatings.
We apply and industrial strength surface cleaner to remove any soap scum, grease, silicone residue and any hard water stains from your tub.
We then apply another industrial strength bathtub resurfacing preparation cleaner that eliminates any type of molecules from past cleaners & leaves the surface with a true neutral pH level.
After the tub is properly cleaned, we then repair any damages such as holes or cracks with a filler that is as hard as porcelain. This is done for each and every one of our bathtub resurfacing clients.
All areas around the tub are masked using painters tape and paper.
The surface is then wiped down with a tack cloth so it is free of particles and dust.
An industrial grade exhaust fan with tubing is then added to remove any air-borne particles straight outside.
We then apply an acrylic-based primer to the bathtub in order to promote maximum adhesion between the product & the surface.
Lastly, we apply the topcoat consisting of Acrylic Urethane to the bathtub. Acrylic Urethane coatings are the highest impact, UV, chemical and water resistance coating. This makes it the most superior & only material that should be used to re-glaze or resurface.
Remember it is important to care for your refinishing properly once complete!
Push and pull drain kits are also available for purchase. These kits include a new drain with new overflow cap. We can apply these kits over your existing drain with an epoxy. No need to call expensive plumbers. Why take a chance on pipes breaking? Ask to see the drain kits, and we can show you how not only to have a beautiful bathtub, but a beautiful drain too!
If your bathroom's in need of a face lift, resurfacing your tub is a fast and practical alternative to a complete remodel or bathtub replacement. Re-invent your bathroom with bathtub resurfacing from The Resurfacing Doctor! Contact Us today!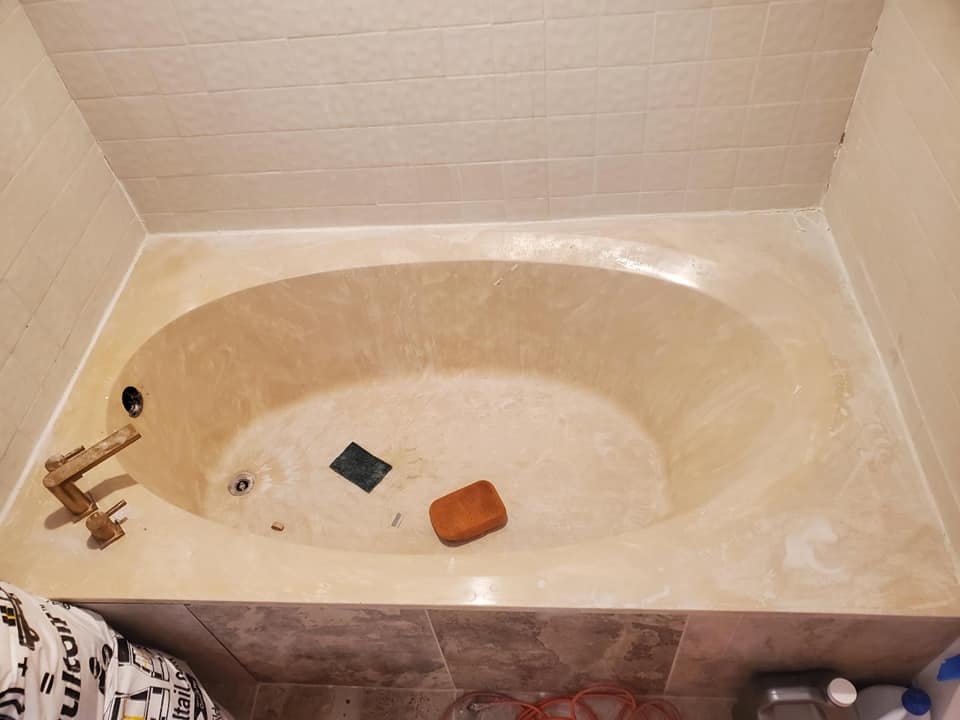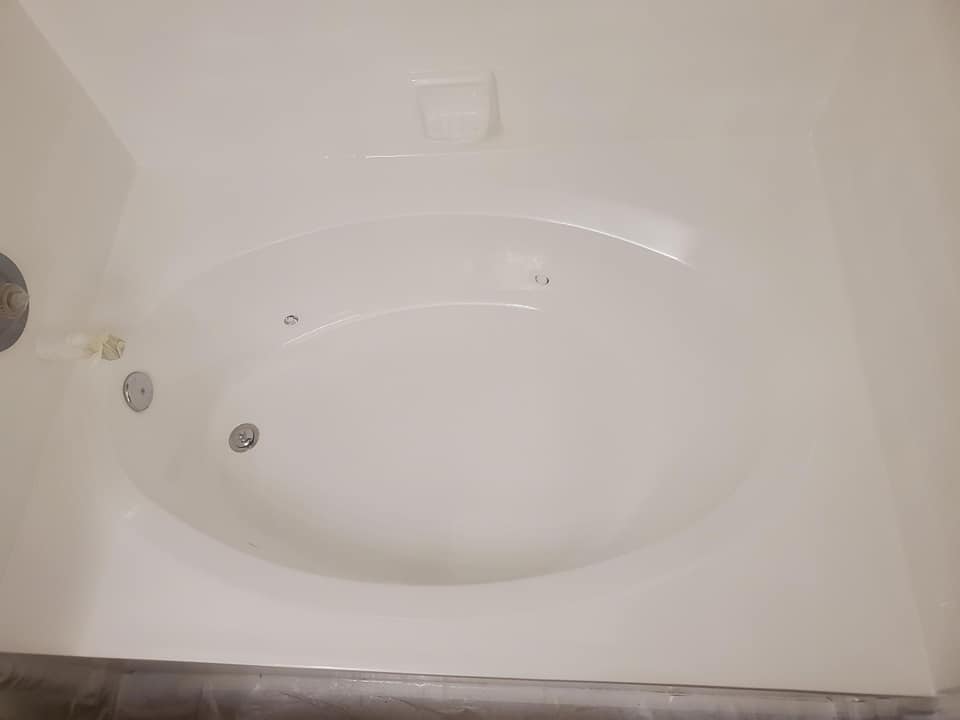 This Could be Your Refinish!
Before and after pictures of some of our recent resurfacing and refinishing services!
Just had a bathtub reglazed with The Resurfacing Doctor and I could not be more happy with the results ! The person that did it , was on time , efficient , extremely nice and did a fabulous job ! Thank you !
-Paula S
Dealing with Matt is a pleasure. I used them to resurface three bathrooms of tile and tubs and they did a fantastic job. Marcelo was terrific and very professional. They do what they say they will do and they do it promptly. This is the third time I've used them and I will recalling them again the next time I need this done in one of my investment properties.
-Robert R
Just got my tub done, it is amazing no more rusting tub. I am so happy with the resurfacing doctor, very professionals , from the phone call to finish the job. Thanks Matt and all your people!
-Ariane F
Thank you Resurfacing Doctor and Thank you Giovanni for a great finish! Love the new look in the kitchen!
-Danilo J
Need a Professional Refinishing Service? Contact us Today